ACP rebuild
Previously manufactured asphalt mixing plants of D508, D597, DS117-2Е, DS117-2К, DS-158, D645-2, D645-2G types both technically and functionally lag behind today's practices. Using these plants to produce asphalt concrete mixtures meeting modern quality requirements is hardly possible. Besides, their flue gas cleaning systems do not comply with modern requirements to environment protection. These plants employ a mechanical system of materials weigh batching, displacement (float-type) bitumen batcher, with some plants (D508, D597, DS117-2Е, DS117-2К) using a three fraction screen. Wet gas purification (bubble-agitated type) used in the plants has a poor efficiency. Many plants do not include the mineral powder assembly. Even if this system is available, batching is often carried out in the same bin used for aggregate batching. Besides, most plants were not equipped with the finished mixture assembly (storage hopper). Because of these factors it is not possible to produce high-quality mixtures, ensure stable operation of the plant and meet environmental standards for emissions.
Taking the above-mentioned considerations into account, we offer to rebuild your asphalt mixing plant.
Proposed rebuild is aimed at:
Improving quality of produced asphalt by implementing an automatic computerized control system and fitting the plant with electronic (load cell) batching devices.
Cutting operation costs due to use of modern, efficient, low-consumption equipment;
Increasing plant throughput by partially or completely replacing the plant's assemblies.
Improving environmental performance by means of dust removal system overhaul or installation of bag filter.
Because plants are very different in terms of configuration, technical condition, year of manufacture and other parameters, it is not feasible to provide a versatile, fit-for-all rebuild concept. We therefore recommend to inspect the plant and draw-up a fault report prior to rebuild.
Our staff can carry out a detailed fault inspection of your asphalt mixing plant and promptly issue recommendations on its rebuild taking into account your requirements and allocated financial resources. We can then complete the full scope of rebuilding works and guarantee that target technical and performance values of your asphalt mixing plant are reached.
You can arrange a visit of our engineer to carry out a fault inspection of your plant by calling the telephone numbers listed in the section
contacts
.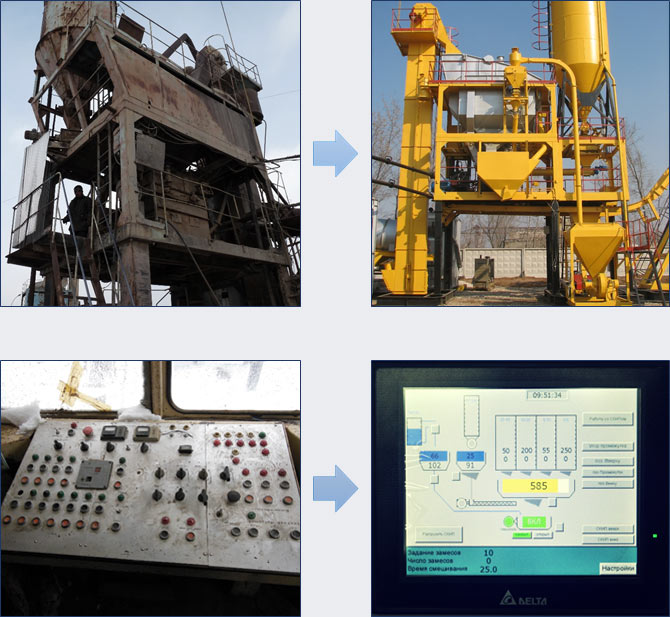 See also: