Ball mill Т 7 (2500х3500)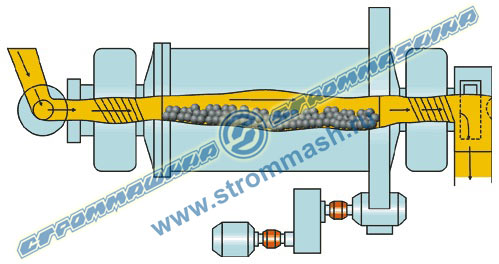 Ball mill of continuous operation is intended for dry grinding of ore and construction materials of medium hardness. The mill is used in construction, ore-mining, mining and chemical and other types of industries and operates continuously in a various flow diagrams (open or closed cycle)
The mill enables to give out homogeneous (in fineness) ground product using balls of different diameter

Mill capacity depends on physical and mechanical characteristics of the material to be ground, grinding fineness, feeding uniformity, filling with grinding bodies, material and maintenance personnel qualification
This grinding mill consists of a drum, charging section, discharge section, carrying rollers, drive, charging chute and screen. The drum is a steel cylinder lined from inside with metal or rubber plates protecting it from wear. There is a manhole in the drum through which the replacement of wearing plates is effected as well as their inspection and charging mill with balls.
Rubber lining is used at the following mill operating conditions:
 ambience shall be neutral, acidity allowed not more than Рн=8-10;
ambience temperature not higher than 80оС;
charging balls diameter not more than 90 mm;
charging material size not more than 40 mm (some lump size up to 50mm);
drum rotating speed shall not exceed the number specified in the mill specification.
Use of rubber lining almost completely excludes if necessary entering of a lining metal and balls to the grinding material and significantly reduces the noise stress from the working mill on the outside environment. Mill capacity is higher when using metal lining.
Mill drive consists of electric motor, gear box with pinion fixed on the common frame.
Mill charging with material is carried out by means of charging chute and a charging screw. Material to be fed to the mill is grinded by grinding bodies and transferred from the charging end to the discharge end under pressure of continuously fed material.
Completely ground material going through the discharge plug, screen and discharge housing proceeds for its intended purpose.
Performance data
| | |
| --- | --- |
| Rated working drum volume, m3 | 17,2 |
| Drum diameter on a center line of lining waves, mm | 2500 |
| Drum rotation frequency, c-1(rpm) | 0,35(21) |
| Installed power, kW | 315 |
| Ball charge mass, t, not more | 23 |
| Capacity, t/h, not less | 12 |
| Mass, kg, with no ball charge | 67500 |
See also: