News
"Strommashina" will participate in International Building Forum "Cement. Concrete. Dry mixtures"'2013
Dear partners!
Samara plant "Strommashina" will participate in International Building Forum "Cement. Concrete. Dry mixtures"'2013.
From 26 to 28 November 2013 Moscow The All-Russia Exhibition Center will hold the XV Anniversary International Construction Forum "Cement. Concrete. Dry Mixtures".
More than 1500 of specialists from 22 countries will take part in the Forum and more than 7000 guests will visit it. Leading foreign and Russian experts will share their knowledge and practical experience. The exhibition will showcase the products and equipment of major building companies of Russia and Europe.
XV International Construction Forum which will hold multiproduct exhibitions, is the most important event for cement, concrete and dry mixes producing industries. Every year visitors and participants of the exhibitions establish useful contacts and receive information about innovations in the development, production and utilization of building materials from the primary source.
Presented exhibition is attended by many companies' representatives, manufacturers of various construction materials, like gypsum, chalk, mineral powders, and other non-metallic materials. Samara plant "Strommashina" is one of the veteran partners. 70 years of continuous manufacturing allowed to gain our customers confidence. Therefore majority of above mentioned industries producers use at least one equipment unit produced by our plant.
Samara plant "Strommashina" has mastered new equipment used for grinding and drying of different materials: roller mills, ball mills of up to 8 m diameter, indirect-heating furnaces, unique self-steamer for gypsum production and others only for the last year.
Technical specialists of our plant will also attend the exhibition, so they can consult you in any questions.
You can get acquainted with exhibition subject on http://all.infocem.info/. We will be pleased to see you in our № А1-3, level 1, hall 2, pavilion 7.
14, Krasnopresnenskaya nab., Moscow, Russia, Vystavochnaya metro station.
Samara plant Strommashina
www.strommash.ru
.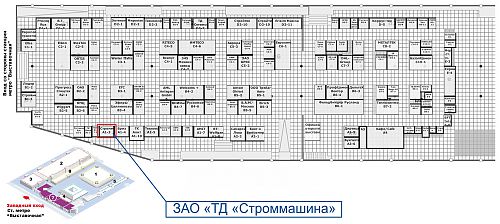 Posted: 27 November 2013 | All news