Strommashina Corp. is Equipment Manufacturer
Samara plant "Strommashina" was established back in the 1940s of the past century in order to provide the industry with all the required modern and technically advanced equipment.
Since then our goal has not been changed. Currently Samara plant "Strommashina" is working in the main industrial trends: building, oil, road, metallurgical and mining industry.
We provide engineering and service, development of project technical concept, preliminary commercial project assessment, fulfillment of design works, installation support (technical and designer supervision), maintenance and repair of the equipment, delivery of spare parts according to the agreed schedule, technical audit of the equipment.

Due to innovation, processing and production base we supply to the abovementioned spheres the following types of equipment: for production of alabaster binding materials, mineral dust, expanded clay (keramzit), concrete products, for grinding and drying of inertial materials, thermal utilization of drilling wastes and separate processing equipment.
Milestones
The plant was founded on the 2nd of November 1942, when processing equipment was mounted in a newly built first workshop on the basis of small repair shops left from the former worksite near Bezymyanka. From that time the plant started to manufacture products for battlefield.
When the newly built workshop was set into operation the plant became familiar with the production of М-30 machines, water-and-oil heaters, bulkheads.
However the main production goal of the plant from the day of it foundation and till the end of 1945, was the realization of urgent governmental orders to manufacture metal works and towers erection, to produce and install radio masts.
In 1945 the plant received the plant target for production of peaceful products: rotating self-steamers, water-jacket furnaces, dampers, drying cylinders, traveling trolleys.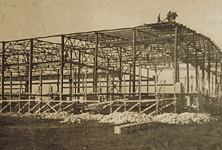 In 1946 the plant was handed over to the Ministry of construction and road engineering and renamed in Kuibyshev plant "Strommashina" what corresponded to the intended profile of the products released. Production facilities had been increased substantially, production output had expanded, its quality was improved, and technology developed.
Forging site, blank production shop, mechanical and assembly workshops were arranged. Simultaneously the plant has received 100-ton forging press, guillotine-shears, unique machines and other equipment. Dozens of production types were examined and mastered including the equipment of special purpose.
1999-2003: the plant undergoes the effective procedure of upgrading the production and the processing base
2005 – up till now: year by year the plant becomes an executor of government's defense order possessing leading positions in the market of construction, oil, road, chemical, metallurgical and mining equipment.
Production
Our enterprise has its own designer and processing structure.
Scientific and technical subdivisions:
Chief Designer Service (CDS): deals with development and serial monitoring, optimization of design documents (DD) of the customer, performs research and development works;
Chief process engineer service (CPES): deals with development of technologies and production accessories as well as the development of control programs for CNC machines;
Central Plant Laboratory (CPL) – has analytical sets, test base and processing equipment to arrange the complete set of inspections, tests, analyses of incoming and processing inspections of materials used and finished products including non-destructive tests.
Production and processing capabilities:
The enterprise posses all types of production technologies of general engineering.
Production facilities: 90 000 sq.m.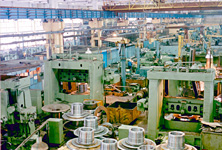 Lifting mechanisms: up to 16 tons
Equipment:
314 units of metal-cutting equipment of all the main types, among them 27 CNC machines, electric welding equipment - 15 units, 2 - galvanic, 18 large-size turning lathe, 2 large-size milling machines.
Mechanical and assembly production:
Processing workshops provide high level of accuracy and surface cleanliness of the materials to be machined (steels including stainless steel), sheet-metal stamping is used, finishing cut and forming.
The enterprise has mastered several types of welding technologies and all the types of brazing including: argon arc welding and in shielding atmosphere.
Production potential enables realization of monthly throughout of metal works within the scope of 300-400 ton.
Tool production:
The workshops produce fitment and press-forms, stamps, cutting tools and instrumentation.
Quality control service:
High quality of production is achieved as a result of all types of incoming inspections, quality policy accepted by the enterprise and quality management system implemented.
Quality management system is developed on the basis of international standards ISO 9001, SRPP VT, together with the requirements of GOST RV 15.002-2003 and certified by certification authorities within the certification system "Oboroncertificate" with issuance of the certificate.